The festive season is just behind us and the new year has already begun. For many people, it is time to plan this year's holidays. Numerous travel destination and accommodation sites are racing for their favor. Page speed has become a defining factor in this race, as over 40% of users abandon a site if it has not loaded within the first three seconds. According to The New York Times, even waiting just a little longer than the blink of an eye (just over 400 milliseconds) can cause unrest to users. At Baqend we are working on a faster web. We tested the 10 travel destination and accommodation sites with the highest market share in the US for their performance.
Results
Tech companies in the travel industry seem to take the issue seriously. The site of market share leader TripAdvisor loads within 0.7 seconds. Only Airbnb is faster, loading in under 0.5 seconds, thus coming close to the famous blink of an eye. This is particularly noteworthy, as the private rental site is over seven times faster than its rivals in the traditional hotel industry. Marriott International and Hilton Hotels Online are coming in last in the ranking and are the only two sites scoring over 3 seconds on the speed index with an average load time of 3.5 and 4.4 seconds, respectively.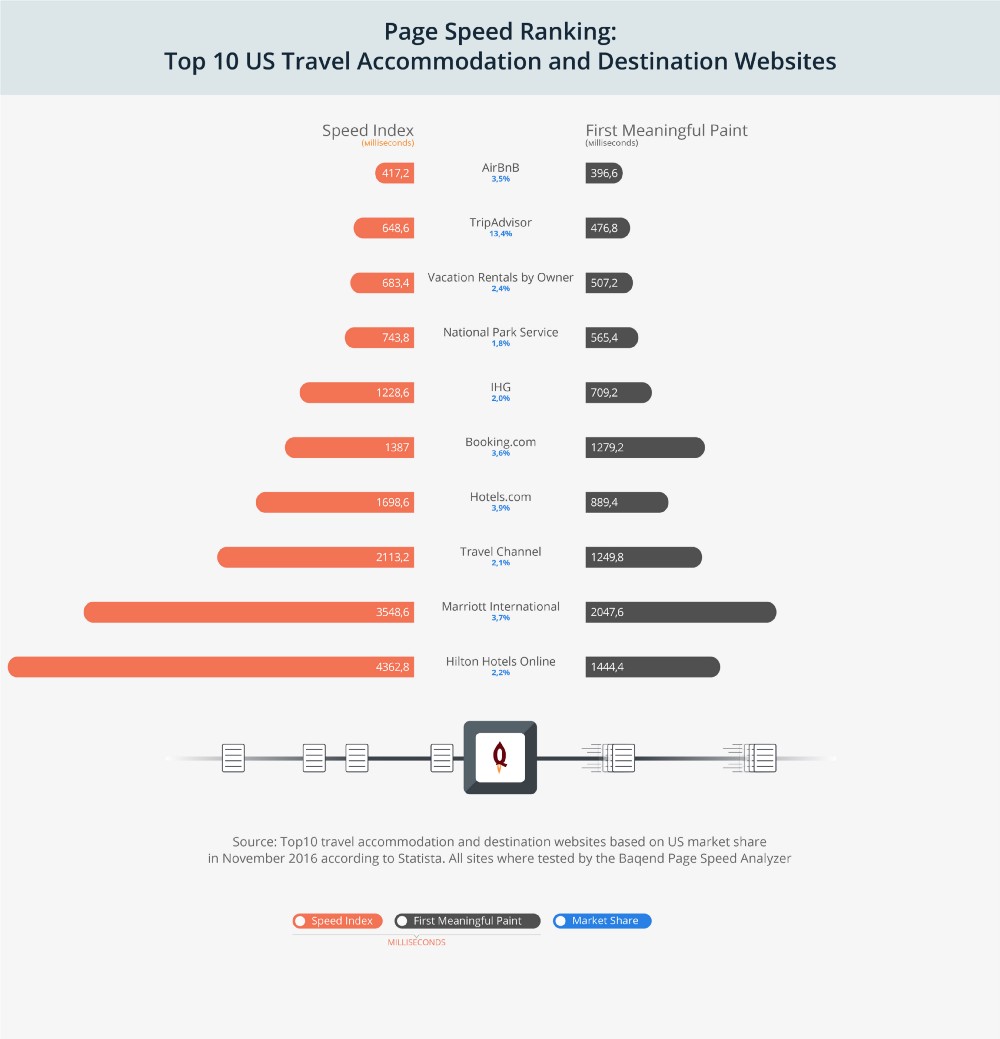 Conclusions
Most of the travel sites we tested are quite fast and already performing at a high level. Especially the page load time of the frontrunners Airbnb and TripAdvisor are barely noticeable to users. This puts slower sites even more under pressure. Marriott and Hilton Hotels need to step up to avoid losing ground against the new generation of travel booking sites. With load times of over three seconds, they are losing a lot of customers before the site has even finished loading — potentially to faster competitors such as Airbnb.
Methodology
Baqend tested the 10 travel destination and booking websites with the most market share according to Statista in November 2016. The test was conducted using the Baqend Page Speed Analyzer using the well-known WebPageTest suite. All sites were accessed from Washington DC. Baqend tested the performance metrics speed index and time to first meaningful paint. The provided data is averaged over 5 tests for each site.
About
Baqend develops a cloud service that uses innovative caching algorithms to minimize loading times of websites. Publishers, shops, startups, and SMEs all face the challenge of competing with giants such as Amazon, Facebook, and Google. Baqend provides them with a technical platform to not only catch up with the market leaders but to turn page speed into their competitive advantage. Baqend's Speed Kit is integrated into a website as a simple script to accelerate it by 50–300%. With Baqend Platform, new websites and mobile apps can be developed directly against a distributed cloud backend to achieve optimal performance right from the start. The mission of the research spin-off is to enable a web without loading times. Baqend is based in Hamburg, Germany.